Share this article Southern California 2 Dead, Torrents of Rain Slam Southern California By The Associated Press February 18, 2017 Updated: February 18, 2017 LOS ANGELES—A huge Pacific storm parked itself over Southern California and unloaded, ravaging roads, opening sinkholes and leading to the deaths of at least two people.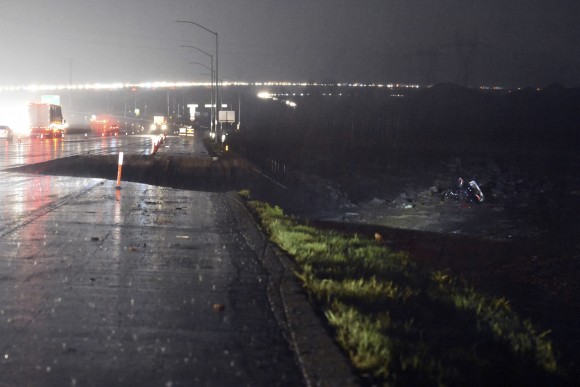 A section of southbound Interstate 15 just south of Hwy 138 is washed away on Friday, Feb., 17, 2017, in the Cajon Pass, Calif. A powerful Pacific storm blew into Southern and Central California on Friday with wind-driven heavy rains that downed power lines and disrupted hundreds of flights at airports. (David Pardo/The Daily Press via AP) /The Daily Press via AP)The storm feeding on an atmospheric river of moisture stretching far out into the ocean was at its most fierce late Friday afternoon, dropping over 8 inches of rain in one area, and was expected to last until Saturday afternoon.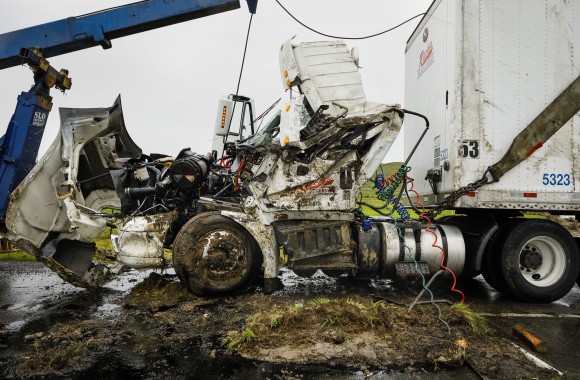 A crew from Johnboy's Towing uprights a big rig that was overturned by high winds at the Highway 46 and 41 interchange in Cholame, Calif., Friday, Feb. 17, 2017. (Joe Johnston/The Tribune (of San Luis Obispo)The region appeared to dodge any major disasters, but in the desert town of Victorville, several cars were washed down a flooded street, and one man was found dead in a submerged vehicle after others were rescued, San Bernardino County fire spokesman Eric Sherwin said.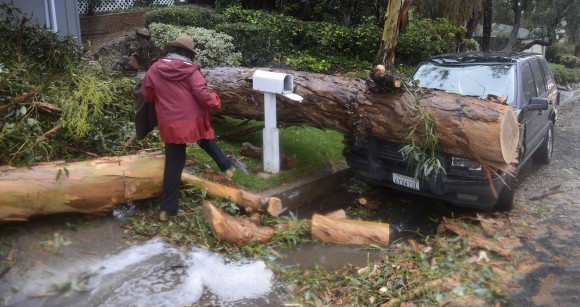 Lori Kahn steps over a branch of a tree that fell on her family's Range Rover Friday, Feb. 17, 2017, in Laguna Beach, Calif. Kahn said that no one was injured in the incident. As a Laguna Beach city trolly drove by Kahn said "Well, I guess we'e a tourist attraction now." (Photo by Bill Alkofer/The Orange County Register via AP) And in the Sherman Oaks area of Los Angeles, a man was electrocuted when a tree falling in heavy rain downed power lines that hit his car.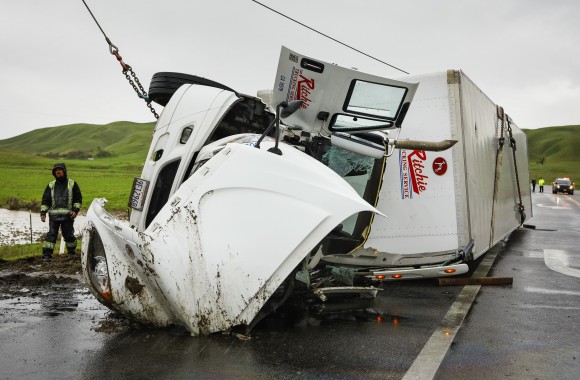 A crew from Johnboy's Towing uprights a big rig that was overturned by high winds at the Highway 46 and 41 interchange in Cholame, Calif., Friday, Feb. 17, 2017. (Joe Johnston/The Tribune (of San Luis Obispo)Later in the same neighborhood, a sinkhole swallowed two cars, the second on live TV as viewers watched it teeter on the edge before plunging in. Firefighters rescued one person from the first car, and the driver got out of the second before it fell. No one was injured.Inland at the Cajon Pass, the shoulder of Interstate 15 crumbled and sent a parked firetruck spilling over the side, but no one was hurt.There were several traffic deaths on slick and flooded roads also, but it was difficult to say which were a direct result of the storm.Other forms of travel were tough too. Amtrak canceled its rail trips for a long stretch of the state's southern and central coast, and more than 300 arriving and departing flights were delayed or canceled at Los Angeles International Airport.Winds gusting to 70 mph or more lashed parts of the region. Heavy rains turned creeks and rivers into brown torrents and released slews of mud from hillsides burned barren by wildfires."At one point the wind was so strong I'm surprised it didn't blow my windows out," retiree Phoenix Hocking said from Carpinteria. "I now have a pond in my patio. And my dog is starting to grow flippers so he can go out and do his business."Several stretches of freeways and highways were closed by flooding, including very busy arteries like Interstate 5 and Interstate 10."It's crazy," said Robin Johnson, an academic adviser at the University of California, Santa Barbara. "It's just pouring down rain. The wind is just going nuts."In LA's Sun Valley, 10 cars were trapped in swift-moving water on a roadway and 15 people had to be rescued, the Fire Department reported.Using ropes and inflatable boats, firefighters rescued seven people and two dogs from the Sepulveda basin, a recreation and flood-control area along the Los Angeles River. One person was taken to a hospital with a non-life threatening injury.The storm took aim at Southern California but also spread precipitation north into the San Joaquin Valley and up to San Francisco. It was not expected to bring significant rain in the far north where damage to spillways of the Lake Oroville dam forced evacuation of 188,000 people last weekend.The National Weather Service said it could end up being the strongest storm to hit Southern California since January 1995.Hundreds of trees and dozens of power lines had toppled in the Los Angeles area and about 150,000 customers were without electricity across the region.Another tree smashed a carport and vehicles in the Santa Barbara suburb of Goleta.By evening, Ventura County and northern Los Angeles County had seen 24-hour rain totals of up to 7 ½ inches, with the San Marcos mountain pass in Santa Barbara County receiving nearly 8 ½ inches.The city of Duarte, in the foothills of the San Gabriel Mountains east of Los Angeles, ordered evacuation of 180 homes below a burn scar.  LINKEDINPINTERESTREDDITTUMBLRSTUMBLEUPON  
Share Show Discussion Hesperia Unified School district Maintenance and Operations Staff cut away a tree which fell on a car at Kingston Elementary School in Hesperia, Calif., on Friday Feb. 17, 2017. High winds preceded heavy rain as a winter storm blew into the High Desert. [James Quigg /The Daily Press via AP)